"Trapping actual raw material and consumables used during the production process is a major challenge directly affecting the costing and profitability of the product."
About Shingora Textiles
Shingora Textiles Limited was incepted back in 1976 with a vision to bring the finest quality, traditional and contemporary textiles to modernize the women's wardrobes. Infusing radical & innovative fashion, Shingora, turned handloom-driven manufacturing into a digitized, system-driven industry. The infrastructural strength, technical know-how, and creativity make Shingora one of the biggest names in the global industry. They have been in the business for 40+ Years having 900+ Employees, 6 Exclusive Brand Outlets, and more than 60 Multi-Brand Outlets across the country with a reach of 1,000,000+ customers.
They deal in:
Shawls
Lohis
Stoles
Dupattas
Squares
Mufflers
Ties
And many more,
However, with a widespread business comes a different set of problems that required immediate solutions for better functioning & production.
The challenge
One of the significant challenges Shingora faced was keeping a record of the samples they made for showcasing the styles. They follow a proper channel in their production house where a prior sampling of styles is done to procure bulk orders
An entire workforce takes part in the process to ascertain what is required & how much is required to produce the samples. At Shingora, production of sample goes through different operations including processes like :
Development of fabric
Dyeing
Printing, and
Stitching cost for a particular style
There are a bunch of processes required on the shop floor to bring the design into reality. From yarn to fabric to Consumables, all the components play a vital role & at Shingora, they needed a system that can help them automate everything for complete management and recording of such events happening at each stage of production and with each set of sample being produced. Trapping of actual raw material and consumables used during the process is yet another challenge they face which effects the costing and profitability knowhow while pricing the product.
To resolve the matter, Zenscale came up with a solution to control the entire production process starting from raw material issuance to actual finish good being produced.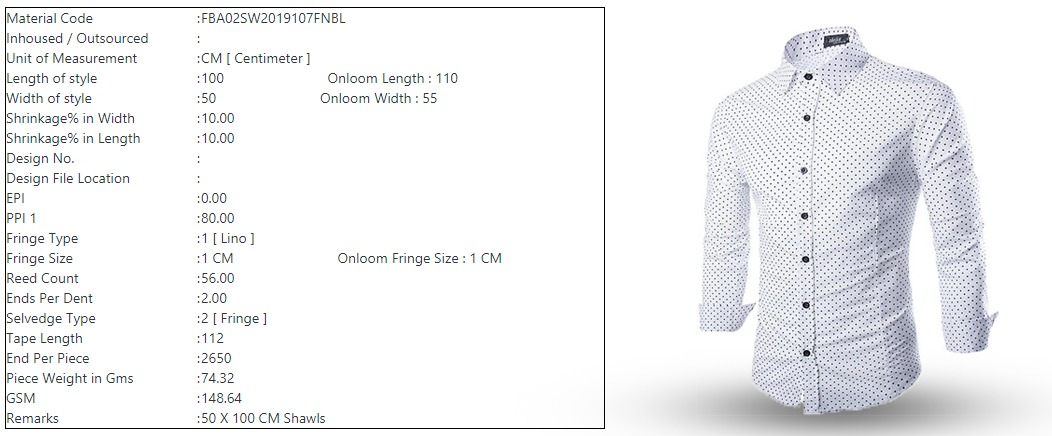 Approach Followed
Since Sampling is an elementary practice followed in different industries, Zenscale converted the entire manual process in to a digital record for sampling at Shingora Textiles Limited. Through this feature, we recorded information like:
Product/style code
Reference number
Colour specifications
Kind of fabric
Composition
Description
Quantity
Details of embroidery
Buttons
Zippers
Any other sort of accessories used

These details help Shingora Textiles Limited to plan for their future orders / costing and reusability of samples as design library.

Zenscale suggested a flow for Sampling (attached below) that includes creating a complete database by linking the image of the sample along with the material/components used and their quantity. Sampling resolved one of the major concerns Shingora Textiles Limited was facing and made Sample production an easy task.

Through this feature, Shingora can check

Whether the finished product is produced according to its parameters or not.
How much cost is involved and if any cost-saving they can do?
Is there any wastage that they can reduce?
Result
As Shingora Textiles implemented the plan & began Sampling, they could focus more on its growth. Through this feature, the final samples are given IDs which are later stored & the image is attached. From the owner to the designer to the production manager, everybody can check the samples & their components used automatically.
Shingora Textiles Limited saw a drastic change in its processes which helped them focus on growth & profits. They experienced approximately a 15-20% decrease in their wastages & unforeseen losses as the backend processes smoothened. Zenscale gave a solution that directly & indirectly proliferated Shingora Textiles Limited.